At Williams Direct Dryers, our team and firefighter gear dryers have played a vital role in changing the way turnout gear is dried and cared for. When it comes to firefighting, the safety of the brave men and women who battle flames and save lives is paramount. One critical aspect of ensuring their overall safety is the proper maintenance and care of their firefighting gear, such as their helmets, jackets, and boots. Firefighter gear dryers play a pivotal role in this maintenance, and one company that has been a pioneering force in this industry is ours: Williams Direct Dryers.
Early Challenges in Gear Drying
Firefighters face numerous challenges when it comes to effectively drying their gear. Wet gear not only increases the risk of bacterial and fungal growth but can also lead to discomfort and potential thermal injuries during firefighting operations. In the past, rudimentary methods like hanging gear in open spaces on a fire gear drying rack or using basic heat sources were common practices. However, these methods are not only ineffective but also unsafe. They often result in uneven drying, which fails to eliminate the hidden moisture that can typically lead to long-term problems.
Emergence of Williams Direct Dryers
At Williams Direct Dryers, we recognized these challenges and took it upon ourselves to help revolutionize gear drying. Our commitment to firefighter safety and gear maintenance led to the development of innovative turnout gear dryer options that helped address these issues effectively. One of the standout features introduced by Williams Direct Dryers is warmed or room temperature forced air drying. This method helps ensure that firefighter gear is thoroughly dried, helping to eliminate the risk of moisture-related issues with their personal protective equipment (PPE).
Our company's dedication to firefighter safety is evident in the design of our firefighter gear dryers. We prioritize effectiveness, ease of use, and reliability, helping us ensure that firefighters can have their gear readily available and in top condition when they need it most.
Impact of Our Firefighter Gear Dryers on Firefighter Safety
The introduction of turnout and bunker gear dryer options from Williams Direct Dryers into the firefighting community has had a positive impact on firefighter safety. Properly dried gear significantly aids in reducing the risk of bacterial and fungal growth, which can help prevent unpleasant odors and infections. Furthermore, dry gear is essential for preventing thermal injuries, such as steam burns. When firefighters are battling intense heat and flames, having gear that maintains its integrity and comfort is crucial. At Williams Direct Dryers, our firefighter gear dryers help ensure that their essential gear remains in optimal conditions, allowing firefighters to focus on their mission without the distraction of discomfort or equipment malfunctions.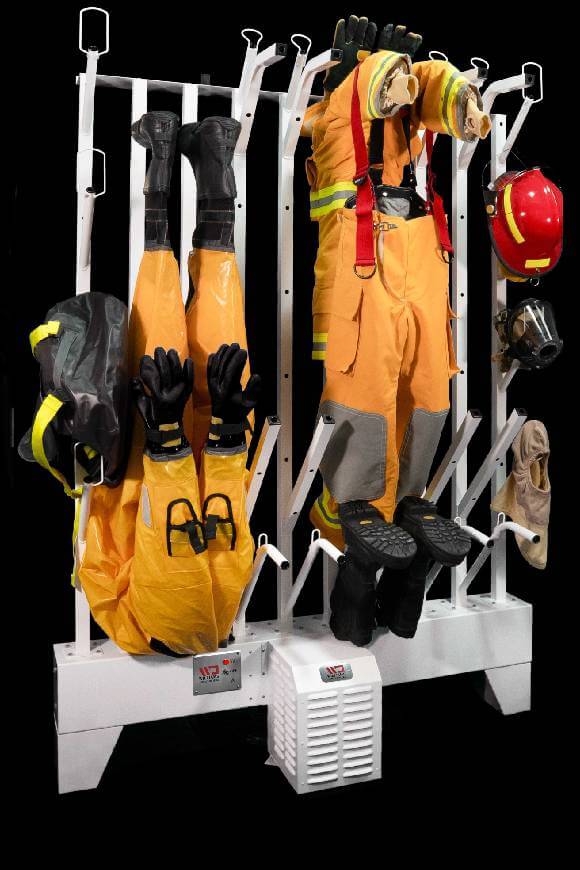 Contact Us Today for More Information on PPE Dryers for Firefighters!
The evolution of firefighter gear dryers has come a long way from rudimentary methods like open-air drying to the more advanced and effective drying technology offered by Williams Direct Dryers. Our commitment to firefighter safety and gear maintenance has helped transform the industry. Properly dried gear not only aids in preventing health risks but also improves operational efficiency, which can ultimately help save lives.
If you want to help ensure that your firefighting gear receives the care and attention it deserves, contact us at Williams Direct Dryers today for more information on our turnout gear dryers!