NFPA-Compliant Turnout Gear Dryers
CSA or CE compliant PPE gear dryers available for shipping worldwide in either 120 or 240 volt configuration
Your PPE protects you from harm in the heat of the moment – but what protects your PPE from damage once the job is done? Williams Direct Dryers is devoted to keeping your turnout gear, boots, gloves, and other protective equipment in great condition. Our dryers are National Fire Protection Association (NFPA) compatible to help ensure complete satisfaction when drying turnout gear and other PPE. We have also invested in additional certifications from countries around the globe to help ensure both safety and quality of our finished products. This allows us to ship anywhere in the world so everyone can enjoy clean, dry gear to protect just as well as the day it was manufactured.
Our dryers come with a variety of benefits that can be enjoyed by all our customers:
Durable, powder-coated steel
Stain-resistant construction
Three-way energy management switch
Palm expanders for glove drying arms
Stainless steel hardware
Our Certifications
NFPA Compliance – Williams Direct Dryers is an NFPA member and complies with applicable standards put forth by the NFPA. These standards involve the care and maintenance of personal protective ensembles.
CSA Compliance – Williams Direct Dryers has CSA certification for 120 and 240V units in North America. These standards involve the safety of products that contain any kind of electrical equipment to help ensure safe manufacturing processes and finished products.
CE Compliance – Williams Direct Dryers have been self-assessed to meet applicable EU safety, health, and environmental protection requirements. Our dryers are EU certified for 240V in Europe.
Our energy-efficient dryers have been rigorously tested to ensure their safety. Not only are our dryers user-friendly, but they also help you care for your gear, long-term. PPE with delicate lining or thermal layers can be compromised if they were put into a traditional tumble dryer. Our non-tumble drying system offers the option to choose between ambient or NFPA-compliant warmed air at the flick of a switch. Our dryers use only gentle drying temperatures to help eliminate moisture quickly so you can use your gear again exactly when you need it.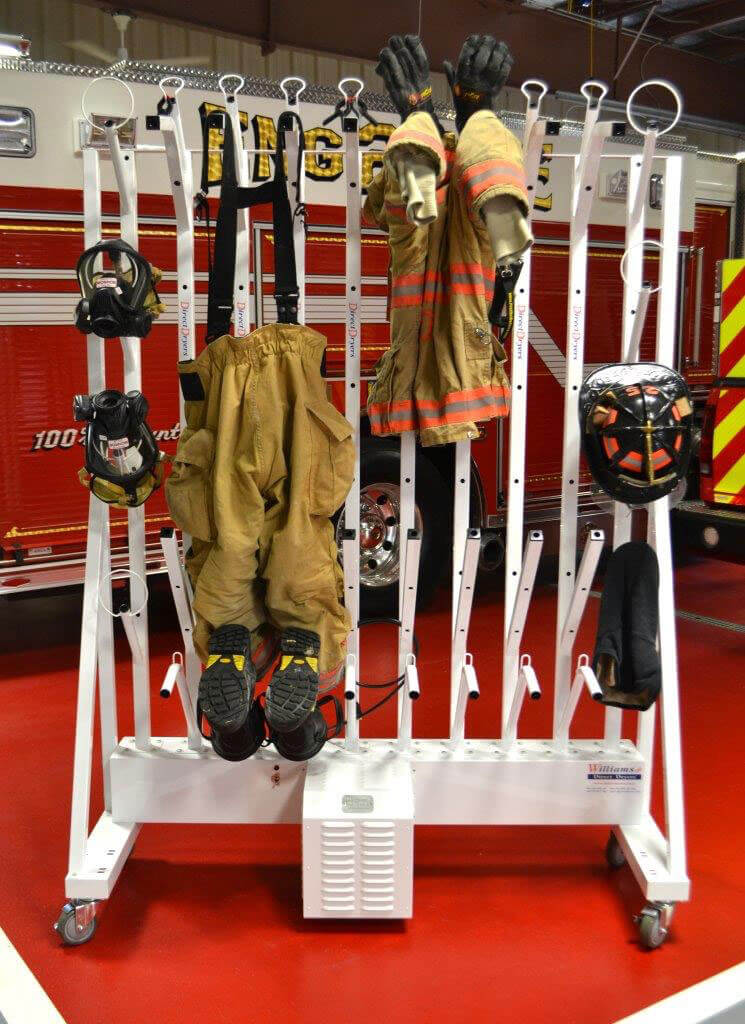 There is never any need to worry about noise with Williams Direct Dryers. Our dryers typically operate around 50 decibels, which is comparable to the sound of a microwave or dishwasher running. Our customers love that their dryers can operate in the background as they carry on conversations in the same room.
Don't wait to get the safe drying power you and your team deserve. Contact Williams Direct Dryers today to choose from our time-tested models for fast delivery. As we say, "cause no one wants to wear wet gear ever"